---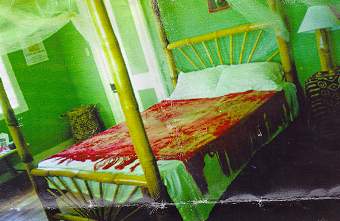 Sunshine Four-Poster
Balancing Technology with Nature
and Practicality with Beauty
The Original Bamboo Factory stated in 1990 and by 1991
we had swept the local furniture industry design awards,
winning the Best Chair, Best Table, Most Environmentally
Friendly and Top Overall Best Design. Since then we have
gone on to produce a compelete line in bamboo furniture,
from children's bunk beds to custom what-nots, outdoor,
gazebos and fences to a whole line of shop fixtures.

Our specialty is for the leisure industry with hotel lobbies,
villas, bars and restaurants and bedroom suites. Our aim
has been to manufacture with local materials a high
quality product directly aimed at the leisure industry. At the same
time promoting the use of bamboo, the fastest growing plant
on the planet, which, once properly harvested and treated,
will last a lifetime.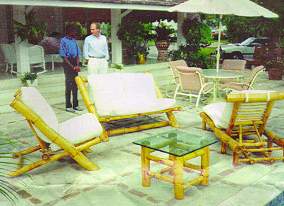 The Carib Chair and Love Seat Chaise-Lounge and Side Table
Kriss Kross Side Table and Sunshine Loveseat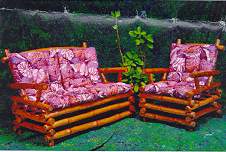 Kriss Kross Loveseat and Chair
Jahva Daybed and Chairs, Jacana Coffee Table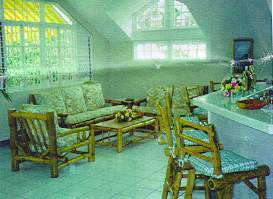 The Tryall Set and Bar Chairs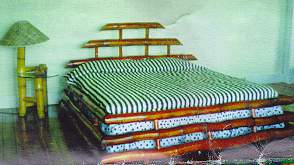 Pagoda King Size and Eco-Boo Bedside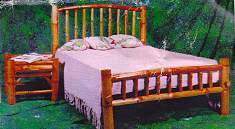 Taino Queen Bed and Bedside Table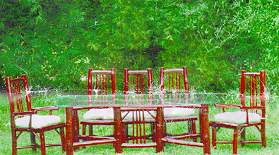 Taino Dining Set
---


Caymanas Estates,
Spanish Town P.O.,
Jamaica, West Indies
Telephone & Fax (876) 705-8883/8262
John Hamilton, Managing Director

---
---
---
This page has been accessed times since 5/10/98
Copyright ©1998 Original Bamboo Factory. All rights reserved.
As a service to Original Bamboo Factory,
a company that exemplifies good eco-management practices,
The Reef Ball Foundation Inc. Services Division has donated the programming
and space for Original Bamboo Factory's home page on the Internet.
The Reef Ball Foundation Inc. Services Division and
Original Bamboo Factory. are separate companies.
Return to the Reef Ball Artificial Reef Index Page
---
---