Reef Balls in the Cayman Islands
Scroll Down for Links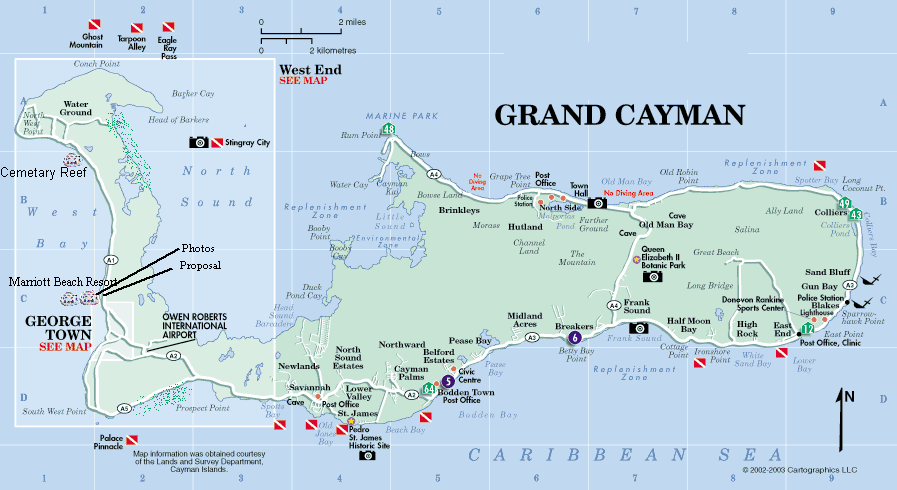 Cayman Ivan Near shore Habitat Restoration Projects Funding Requests
Grand Cayman Marriott Beach Resort, West Indian Marine, Red Sail Sports, Cayman Government, and the Reef Ball Foundation finished a coral rescue, propagation and planting demonstration and training project for the Cayman Government. Over 500 new coral colonies were created. We will have a full press release up soon.

Cayman Net News- Cabinet focuses on Sister Islands with news of housing and new projects Sept 27th 2005
Oct 2005 "4 Reef Ball Reef" was created off Cemetery Snorkeling Reef on 7 mile beach about 35 yards north of the marine park boundary buoy it was donated by West Indian Marine and fully planted by the Reef Ball Coral Team with a variety of rescued and propagated plugs. Each of the 4 Reef Balls had a fish spawn of thousand of eggs within 24 hours of being deployed. (Sergeant Major Damselfish). This is the start of where the government will given permission to deploy an additional 200 biological Reef Balls to create a snorkeling area and to aid in the recovery of the nearshore reefs.
Oct 2005 2 new Reef Balls were laid to mark the start of a snorkeling trail being considered for an Oct 2006 anniversary Reef Ball Coral Team visit and were also fully planted.
Oct 2005 existing Reef Ball submerged breakwater at the Grand Cayman Marriott was planted with over 400 corals.
March/April 2005 Engineering for 32 additional Reef Balls to be added to Marriott submerged breakwater
August 2004 Update ScientificReports/GC Marriott 03Aug update.pdf
(DRAFT!) Tamirand Proposal (May 3rd Version)
From NorthWest Airlines website, "As of 2/10/03: Improvement on the beach area was completed in 2003, the beach is now 63 feet wide and can comfortably place four rows of chairs. Also completed construction of an artificial reef ball breakwater system to help preserve the beach. The reef has become a great attraction and enhanced snorkeling and sea life."
Mold Owners
Marriott Grand Cayman, West Bay Road, Grand Cayman BWI Phone: -345-949-0088 acquired 3 Ultra Ball molds on 06/10/2002 for use only by the Marriott to create a submerged breakwater and snorkeling trail. The License was from the Reef Ball Foundation Inc. Services Division under special arrangement as molds are not usually sold for purposes of submerged breakwater projects except to authorized contractors for quality control purposes. In this case, Hadsphaltic Ltd. assumed the role of contractor and was trained for quality control. West Indian Marine Group has also been certified and trained for quality control.
Other Information
Contact for Tamirand <tambay@candw.ky>
Chris Sariego, Managing Director, Grand Cayman Marriott Beach Resort csariego@marriott.ky 345 943 2061 (direct)
Kenneth Ebanks, Asst Dir. of Planning kenneth.ebanks@gov.ky
Scott Slaybaugh, scott.slaybaugh@gov.ky
Tim Austin tim.austin@gov.ky (Coral Team Member)
---
Authorized Contractors for the Area
We do not currently have an authorized contractor for the Cayman Islands, however, Hadsphaltic did the construction for the Marriott as a subcontractor to the Marriott and West Indian Marine Group did the follow up construction of 32 more units for the breakwater and all the biological units deployed on the snorkeling trail and Cemetery Reef.
West Indian Marine Group
John Mackenzie
93 Mary Read Cres.
South Sound,
Grand Cayman
phone 1-345-9454869
1-345-9161555 - John mobile
fax 1-345-9454897
john.mackenzie@ugland.com (alternate magellan@candw.ky)
Hadsphaltic International Limited
PO Box 502 GT
Grand Cayman
Cayman Islands
345-945-4135
Ray J. Howe, Contracts Manager rhowe@hadsphaltic.com.ky
Gary Lindsay, Site Manager glindsay@hadsphaltic.com.ky
<Back to World Map (use browser back for one level back)
---
Copyright 1995 - 2003, RBDG, Ltd. all rights reserved. See brochure page footer for information on patents, copyrights, trademarks and service marks referenced, but not indicated, on this page. Other pages we maintain: Reef Ball Shared Resources, Reef Ball Foundation, La falda
.