Photos from July 2003 of Corals
Best Overall Project 2001: PortoMari, Curacao, Caribbean Sea PortoMari's project included Reef Balls of all sizes, large volunteer participation from the community and local NGOs, extensive press coverage, an innovative Coral transplant project using imperiled corals, recovery of shallow water reefs destroy almost completely by Hurricane Lenny, private funding from PortoMari with a matching Reef Ball Foundation Grant, an extensive monitoring program including both the Reef Balls and the natural
surrounding reefs. And, of course, the on-going building of Reef Balls. 180 Reef Balls have already been deployed and another 100 are planned for Spring 2002. This project even had a heavy educational component with seminars on corals, reef systems, coral transplanting, press events, kids days and on-going eco-diver training. There is only ONE thing that could have made this a better project...if the reefs had not been destroyed by the storm and the project was unnecessary!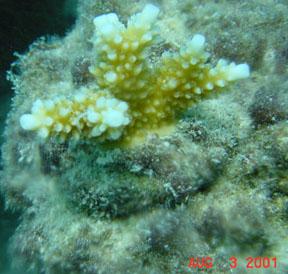 Staghorn Coral after 5 months (transplanted March 2001)

Same Coral, 18 months growth, Sept 2002

Same Coral in July 2003 28 months growth!! (Metric Scale)
Mold Owners
PortoMari acquired on 2/14/2001 through the Reef Ball Foundation Reefs Around the World Grant Program. The molds are licensed for unlimited use at PortoMari or by an authorized contractor agreement with the Reef Ball Development Group for any other sites on Curacao.
| | | |
| --- | --- | --- |
| RB sys | 1 | Reef Ball Mold System |
| PB Sys | 4 | Pallet Ball Mold System |
| BBsys | 5 | Bay Ball Mold System |
| LP sys | 5 | Lo-Pro Mold System |
| Oy sys | 5 | Oyster Ball mold System |