East Malaysia (Sarawak, Sabah, Borneo) Reef Ball Projects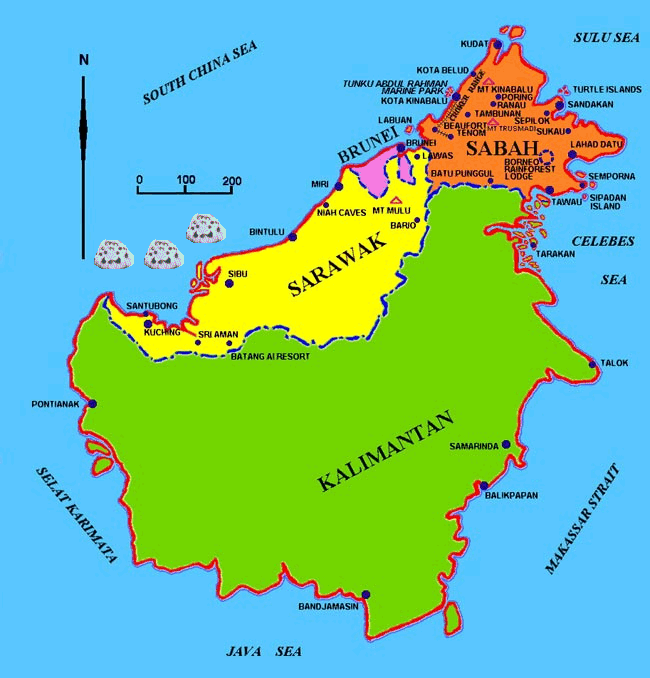 *
Best Conservation Program 1998 - Sarawak, Malaysia project


The Sarawak Reef Balls Project was initiated to promote sea turtle conservation

THE REEF BALL PROJECT IN SARAWAK Article to be published by

Indian Ocean

and

South China Sea Marine Turtles Working Group in Jan. or Feb 2006. Advanced Copy.

Distribution and Diversity of Fishes at Articicial Reef Balls Around Talang-Talang Islands, Sematan: Implications on Commercial Fisheries

Researchers

:

Lee Nyanti and Nazzatul Asyikin Mohd. Najib (Unimas) in collaboration with the Sarawak Forestry Department and Department of Marine Fisheries.

Malaysia Reef Ball Artificial Reef Project To Protect Turtles
COLONISATION AND GROWTH OF MARINE ANIMALS ON ARTIFICIAL REEFS AT BATU PENYU, TALANG-SATANG NATIONAL PARK, MALAYSIA
Statement on Tires as Artificial Reefs For Malaysia by Dr. Bill Alevizon, A Scientific Expert on Artificial Reefs
"Elizabeth Wood" ewood@globalnet.co.uk, Project Director of Reefs Around Malaysia, a non-profit campaign to assist in the building & deployment of Reefballs in Malaysia...she had been working to bring Reef Balls to Sabah.
"James Anak Bali" <jamesbali@sarawakforestry.com or jamesb1@sarawaknet.gov.my> is the contact for the Sarawak Forestry Department Project

"Last year(2002) Sarawak Reef Ball Working Group (SRBWG) which is lead by Sarawak Forestry Department deployed 325 (total to more than one thousand) reef balls at Talang Satang National Park ( Sarawak Turtle Islands ) to protect the nesting and swimming areas of sea turtle from illegal trawlers activities. Since January this year (2003) we donít have any public reports regarding the dead turtle around their villages. It looks like the shrimp trawlers are afraid to enter that area after a few time of their trawler nets get caught at reef ball and torn. ( one trawler net cost them around RM1500- RM2000). This year (July or August) we plan to deploy around 400-500 reef balls at Satang Island (another part of Talang-Satang National Park ).

Research and monitoring of reef ball is going on. We have set up a Research and monitoring sub-committee under SRBWG. The research and monitoring sub committee activities were started last June. This sub-committee is Lead by Marine Fisheries Department. 3 University Malaysia Sarawak (UNIMAS) is doing their bachelor degree thesis on something related to reef ball (I will give you the title of the thesis once I get it from the UNIMAS lecturer) Marine Fisheries Department also conducting a few study on fish recruitment. All of the result will be compiled at the end of the year. I promise you that we will send a copy of the finding to your guys. We also set up public awareness sub-committee which is lead by the Natural Resources and the Environment Board. This sub committee will deal with any environmental issue regarding reef ball and public awareness campaign. "
Mold Owners
Sarawak Forestry Department, Director of Forests (Att: James Bali), Wima Sumber Alam, Jalan Stadium, Petra Jaya 99660, Kuching, Sarawak, Malaysia received 2 Reef Ball, 2 Pallet Ball and 2 Bay Ball systems on 01/01/1998. They are licensed through the Reef Ball Foundation's Reefs Around the World Grant Program for non-commercial use by the Forestry Department.
Reef Ball Asia, in Kuala Lumpar (see below) has a set of molds licensed under an authorized contractor agreement with the Reef Ball Foundation Inc. Services Division
---
Authorized Contractors
Reefball Asia Sdn Bhd (524586-M)
10-1 Jalan SL 2/2, Bandar Sungai Long, 43000 Kuala Lumpur, Malaysia
reefball@reefballasia.com
Account Specific Agents
PEMBARAS SDN. BHD ( Co. No. 172790H)
Fortuneland Business Center
Sub lot 2483, 2nd Floor, Jalan Rock
93200 Kuching,.
For the Sarawak Forestry Corporation Sdn Bhd
Tel: 6082-232407
Fax: 6082-422110
<Back to World Map (use browser back for one level back)
---
Copyright 1995 - 2006, RBF. all rights reserved. See brochure page footer for information on patents, copyrights, trademarks and service marks referenced, but not indicated, on this page. Other pages we maintain: Reef Ball Shared Resources, Reef Ball Foundation, La falda, preventhurricanes