Lousianna Reef Ball Project(s)
Scroll Down for Links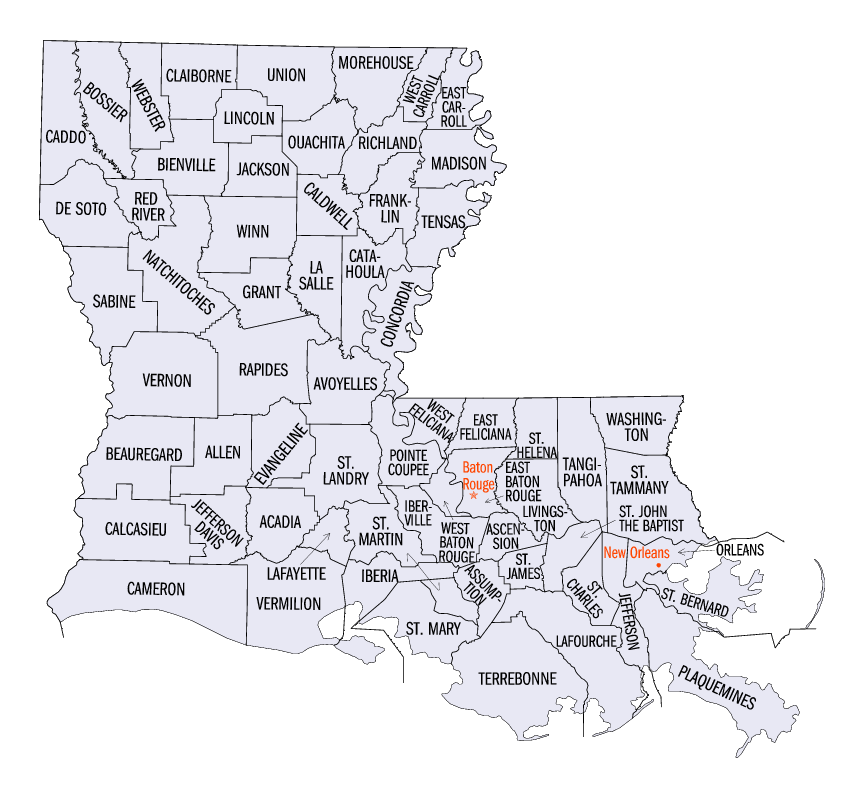 Post Katrina Update: Urgent Call for Matching Funding! 12/22/2005

As you may recall a few years ago we deployed the first reef balls in Louisiana . These are located in Lake Pontchartrain just minutes boat ride form New Orleans . As you have probably come to expect, these were a success. About 1 ½ years ago, we began a Phase II reef construction program in Lake Pontchartrain . We applied for a grant and the grant was awarded for $40,000. There was a $25,000 cash match requirement (non-federal). We had donation commitment from local car dealer. The dealership was heavily impacted from Katrina and they cannot follow through on their pledge. Under the current circumstances of widespread devastation and needs, it is difficult to contemplate a campaign to get a local contribution. Therefore I thought you may have a suggestion for this donation outside of Louisiana . Admittedly Florida has been heavily impacted also, so possibly elsewhere..even an international source. With the donation, grant and in-kind services, we hope to construct three sites in Lake Pontchartrain for a total cost of $80,000 including services. We lose all this if we do not have a $25,000 donation.

See http://www.saveourlake.org/recmap.htm

Any suggestions would be appreciated.

PS A preliminary survey indicates the reef balls in Lake Pontchartrain were not dislocated from Katrina. Once we document this, it should be a helpful testimony to their design.

John A. Lopez, PhD
Dir. Coastal Sustainability Program
Lake Pontchartrain Basin Foundation
225-294-4998
504-421-7348 - cell
johnlopez@pobox.com


Ask Captain Paul, March 2004, Louisiana Sportsman Magazin, "Where are the Reef Balls in Lake Ponchartrain?
Reef work aims to reel in fishers [600 Reef Balls to be deployed] (Lake Pontchartain, Louisiana) September 2, 2003
July 8, 2003 Group authorized to develop reefs (Lake Ponchartrain, Louisiana )
LSU "[117c] - Supercritical CO2 Carbonated Cements - Characterization and Application as Artificial Coral Reefs"
Two barge loads of Reef Balls are planned for Lake Pontchartrain (Fall 2003) by Coastal Reef Builders, Inc. for Lake Pontchartrain Basin Foundation (John Lopez jalopez@pobox.com) 985 847-1889
Ridding the World of Excess Carbon Dioxide -The Daily Revolution - Tech Talk Tuesday - May 26, 1998 - News for the Third Millennium
The Aquarium of the Americas, New Orleans has added several Reef Ball sizes to many of the exhibits.
Reef BallsTM: How Combining Designed Reefs with Oil Superstructures used as Artificial Reefs can help the overall reef system to better mimic natural reef systems
"Larry, please recall that ya'll have been gracious enough to provide us with 5 or 6 mini-balls and 2 of the new aggregate finish oyster balls so that we could conduct spat set tests here in coastal Louisiana. Those tests were to assess various material types for our soon-to-come (I hope) marsh/shore protection project. The tests have been completed and reef balls appear to be the winner (having the most oyster spat per unit surface area). Once we have the surface area computations completed, we should be able to send you a report. Dr. Earl Melancon biol-em@nicholls.edu, a professor at Nicholls State University (Louisiana), has conducted these tests and is having students develop the results. He is excited about the reefballs. After 2 months in the water, we had a BIG stone crab residing inside one of the oyster balls! Thanks again for supplying the reef balls!!

Ronny Paille
U.S. Fish and Wildlife Service
646 Cajundome Blvd., Suite 400
Lafayette, LA 70506
Ph: 337-291-3117
Fx: 337-291-3139
Email: Ronald_Paille@FWS.GOV"

Artificial Reef Coordinators For the State

State

RICK KASPRZCK
P.O. BOX 98000
BATON ROUGE LA 70898-9000
kasprzak_ra@wlf.state.la.us

Minerals and Mining

LES DAUTERIVE
1201 ELMWOOD PARK BLVD., MS 5430
NEW ORLEANS LA 70123-2394
lester.dauterive@mms.gov

Coordinates of the Reef Balls

The coordinates for the newly constructed reef are latitude 30 degrees 16 minutes 17 seconds north and longitude 90 degrees 3 minutes 45 seconds west. This places it about 5 miles south of Mandeville
---
Authorized Contractors
Coastal Reef Builders, Inc. is our authorized contractor for the Florida (Panhandle) and Alabama Large Area Permits. YOU can own your own Reef Ball reef with private coordinates for as little as $180. AND THAT'S A DEPLOYED PRICE! Coastal Reef Builders, Inc. owns a barge and tugboat and are also available for deployment work throughout the southeast.
Reef Innovations, Inc. (RI) is a worldwide mobile, authorized, licensed and insured Reef Ball Contractor providing turnkey construction and delivery of Reef Ball products worldwide. RI also offers Reef Ball mold training and finished module inspection services. Check our Website for more information.
Reef Innovations
2415 McMichael Road
St. Cloud, Fl 34771
larry@reefball.com
Cell: (941)650-2519
Home: (407) 957-5821

<Back to World Map (use browser back for one level back)
---
Copyright 1995 - 2003, RBDG, Ltd. all rights reserved. See brochure page footer for information on patents, copyrights, trademarks and service marks referenced, but not indicated, on this page. Other pages we maintain: Reef Ball Shared Resources, Reef Ball Foundation, La falda