Monroe County, Florida Keys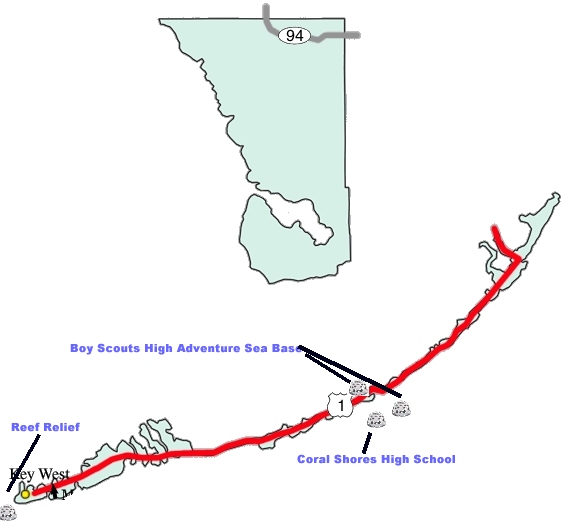 Monroe County School System, "Artificial Reef Habitat", "Wolfe Reef"
-Monitorings
April 28, 2000
March 2, 2000
December 14, 1999
October 7, 1999
July 13, 1999
Aug 8, 2000, Coral Shores High School Project, Monroe County, Florida.
-Multiple sources (REEF, Central Florida Divers) have reported that Coral Shores High School also transplanted corals onto the Reef Balls in their project. It is unknown which transplant methods they used or what success they had.
Naples Daily News, "High school students diving into this Florida Keys subject", Wednesday, May 31, 2000
Compressed Air Magazine: "Underwater World of High Adventure by Derick Schermerhorn (Boy Scouts of America)
-Underwater Pics of Boy Scout Reef Balls
Charbon's Alley and Scout reef 24" 45.41' N /80" 49.11'W

Diadema (Sea Urchin) Study by Martin Moe and Ken Nedimyer documenting the importance of sea urchins to coral survival and cover.


(Picture at Right is a Reef Ball with a surface texture designed
specifically to help Juvenile Diadema settle
as suggested by Martin Moe and Ken Nedimyer)

(More Scientific Version of the above on Diadema)
In August of 1994, the Reef Ball Group secured a donation of a Bay Ball (tm) mold for the Boy Scout High Adventure Sea Base on Islamorada in the Florida Keys. As part of the adventure, boys and girls build and deploy Bay Balls (tm) on a permitted site 3 miles offshore in shallow waters. The project was expanded in 1995 to include the use of the smaller Lo-Pro Ball (tm) and Oyster Ball (tm) molds . Slides are available of the boys and girls constructing the Reef Balls (tm) and of the underwater scene. The molds were donated by Charbon's Outdoors America Dive Shop in Athens, Georgia. (706) 548-7225. "Charbon's Alley" and "Scout" reef is located at 24" 45.41' N and 80" 49.11'W.
Mold Owners

Sea Us First, Jack Sievers, PO Box 716, Islamorada, FL 33036 obtained 3 Reef Ball, 3 Pallet Ball, 3 Bay Balls, 1 Lo Pro and 1 Oyster Ball molds systems from the Reef Ball Foundation Inc. Services Division on 08/19/1996 under an authorized contractor agreement. Sea Us First completed a private project in the Bahamas then was unable to complete its obligations under the contractor agreement to the Reef Ball Foundation Inc. Services Division so Sea Us First was terminated as an authorized contactor on 3/1/97. The licenses for these molds are invalid except for use in Reef Ball Foundation Approved Reefs Around the World Grant Project Recipients. (Notably the Wolfe Reef and Coral Shores High School Projects). Jack has retained possession of the molds and occasionally discusses potential RBF projects with us. The molds are also licensed for promotional use and you will find some Reef Balls scattered throughout the keys at dive shop and in other interesting places.

Boy Scout High Adventure Camp, MM 74, Islamorada, FL 33036 acquired their first Bay Ball mold on 06/21/1994 that was Donated by Charbon's Outdoors America of Athens Georgia. Later, they acquired two Lo Pro molds from participation in the Reef Ball Foundation's Reefs Around the World Grant Program on 08/03/1995. Reef Innovations, Inc. has also loaned them various molds from time to time over the years to keep the program active. All their molds are licensed for unlimited commercial use by the Scouts as part of camp activities.

Artificial Reef Coordinators

GEORGE GARRETT
2798 OVERSEAS HIGHWAY, SUITE 420
MARATHON FL 33050
garrett-george@monroecounty-fl.com

Other Information

R.E.E.F.
LESLIE WHALEN
P.O. BOX 246
KEY LARGO FL 33037
leslie@reef.org
http://www.reef.org/

Billy D. Causey
Superintendent
Florida Keys National Marine Sanctuary
P.O. Box 500368
Marathon, FL 33050
Billy.Causey@noaa.gov
phone: (305) 743-2437 x26
fax: (305) 743-2357
http://floridakeys.nos.noaa.gov

Doug Gregory
Sea Grant Marine Extension Agent/
County Extension Director
UF/IFAS/MC Extension
1100 Simonton Street, Suite 2-260
Key West, FL 33040
305-292-4501
Dgregory@UFL.IFAS.edu

---
Authorized Contractors for the Area
Reef Innovations, Inc. (RI) is a worldwide mobile, authorized, licensed and insured Reef Ball Contractor providing turnkey construction and delivery of Reef Ball products worldwide. RI also offers Reef Ball mold training and finished module inspection services. Check our Website for more information.
Reef Innovations
2415 McMichael Road
St. Cloud, Fl 34771
larry@reefball.com
Cell: (941)650-2519
Home: (407) 957-5821

<Back to World Map (use browser back for one level back)
---
Copyright 1995 - 2003, RBDG, Ltd. all rights reserved. See brochure page footer for information on patents, copyrights, trademarks and service marks referenced, but not indicated, on this page. Other pages we maintain: Reef Ball Shared Resources, Reef Ball Foundation, La falda