New Zealand Reef Ball Projects
Scroll Down for Links or Click on Interactive Map.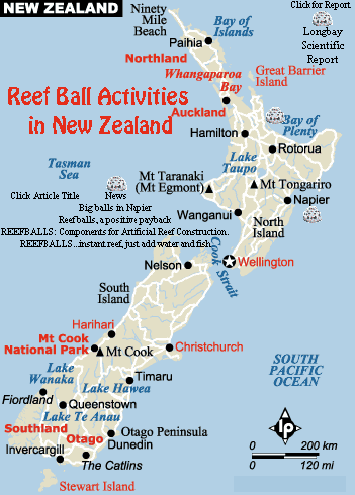 New Zealand Scientists Helping the Reef Ball Foundation

In Focus:
Jonathan Jaffrey BSc, PGCE


Jonathan Jaffrey is EOS's 2001 Royal Society of New Zealand Teaching Fellow. Jon is a physics specialist who has taught science for over 20 years in secondary schools, both here and in Great Britain. He is well traveled, and passionate about the environment and SCUBA diving. These passions led him to choose Reefball Technology as the focus of his research in EOS. Although Reef Balls have been used extensively overseas to construct artificial reefs, no research has been carried out on them in New Zealand. Jon is planning to set up two patterns of Reef Balls in the Long Bay-Okura Marine Reserve. These will form the platform for research into colonization rates, and will enhance biotic mass and biodiversity. Both undergraduate and graduate students have expressed keen interest in working on the project, which complements ongoing studies in the reserve.
E-mail: Jon.Jaffrey@gmx.net
Mold Owners
Dave Allison, 12 Milton Road, Naiper, New Zealand was shipped one Pallet Ball and One Bay Ball mold for Reef Ball New Zealand's use under a Reef Ball Foundation Inc. Services Division authorized contractor agreement on 02/11/2000.
Other Information
Dr. Shaw Mead
ASR Ltd
PO Box 151
Raglan
+64 7 825 0380
www.asrltd.co.nz

"Stuart Cawker" <StuCawkerCapt.Asp@xtra.co.nz>
Coordinates of Reef Balls in New Zealand
The Long Bay reef is located at 360 40' 52" S, 1740 45' 14.8" E in 5.5 m at minimum spring low tides. It comprises twelve concrete hemispherical shells made of 60 MPa concrete with microsilca added. There are nine Bay Balls [mass approximately 300 kg, height 0.7 m, base diameter 1.0 m with about 10 piercing] in a N – S line. At the Northern end, there is a Pallet Ball [mass approximately 1200 kg height 0.9 m; base diameter 1.2m with about 15 piercing]. ]. At the Southern end, there are two further Pallet Balls; one with a 30x30 cm slate plate attached to a vertical surface and the other with a plate attached to close the top hole of the unit; i.e. in a horizontal position.
Zig Zag Reef (9 Bay Balls) 360 40' 52" S, 1740 45' 14.8" E

Octagon Reef at 360 40' 51.1" S, 1740 45' 19.6" E This also comprises twelve units with four of the smaller Bay Ball units planted as the central core. There are four Bay Balls around the perimeter; a Pallet Ball at the Eastern point of the octagon; and one further Pallet Ball on the Southern margin. There are slate plates attached to a vertical surface of both these Pallet Balls. Another Pallet Ball is placed on the western side. The last Pallet Ball forms a tail to the south since inclement weather prevented it being placed in geometrical perfection. All the spacing is again about 1.0 meter.
---
Authorized Contractors
Reef Ball New Zealand
Dave Head at odile@xtra.co.nz
Authorized Contractors for the Area
<Back to World Map (use browser back for one level back)
---
Copyright 1995 - 2003, RBDG, Ltd. all rights reserved. See brochure page footer for information on patents, copyrights, trademarks and service marks referenced, but not indicated, on this page. Other pages we maintain: Reef Ball Shared Resources, Reef Ball Foundation, La falda