Charlotte Harbor Reef Association
---
Newsletter #1 Summer 1997
THREE REEF BALL (tm) PROJECTS UNDERWAY
THE CHARLOTTE HARBOR REEF ASSOCIATION HAS THREE SEPARATE REEF BALL(tm) PROJECTS ON STREAM.
1ST PROJECT: REJUVENATION OF CHARLOTTE REEF-
A ONE MILE LONG AND 150' WIDE REEF SOUTH AND WEST PF ALLIGATOR CREEK MOUTH. THIS WILL REQUIRE 70 PALLET BALLS(tm) AND 140 BAY BALLS(tm) EACH. HALF IN THE ABOVE UNITS WILL BE DEPLOYED IN APRIL 1999 AND THE OTHER HALF IN THE SPRING OF 2000.
2ND PROJET - CITY OF PUNTA GORDA WATERFRONT JUVENILE FISHERIES HABITAT. THIS WILL REQUIRE 36 LO PRO BALLS AND 36 BAY BALLS(tm) TO BE PLACED UNDER THE FISHING PIERS AT LAISHLEY PARK, GILCHRIST PARK, AND NATURE PARK. THIS WILL GIVE EASY ACCESS TO OUR YOUTH, ELDERLY, HANDICAPPED AND TOURISTS, TO BE ABLE TO HAVE A PLACE TO FISH WHERE MORE FISH BECOME AVAILABLE.
3RD PROJECT: DOCKS. CITY OF PUNTA GORDA FISHERIES HABITAT UNDER LOCAL DOCKS. THE CANALS IN THE CITY OF PUNTA GORDA ARE STATE WATERS. ONLY A FEW HAVE MANGROVES. THE LO-PRO BALLS(tm) WILL GIVE THE JUVENILE FISH A HABITAT SO IT WILL BE POSSIBLE FOR THEM TO GROW AND TO BECOME REPRODUCTIVE ADULT-SIZE FISH. 180 REEF BALLS (tm) WILL BE PLACED UNDER 90 DOCKS(2 EACH). THE REEF BALLS(tm) WILL BE FREE BUT A $40.00 PLACEMENT FEE WILL BE ASSESSED EACH PARTICIPATING PROPERTY OWNER.
WHERE ARE THE REEF BALLS(tm) COMING FROM ? ? ?
WITH TREMENDOUS HELP FROM VOLUNTEERS AND FROM PRIVATE BUSINESS, WE ARE ABLE TO SET UP AN ASSEMBLY LINE AT KREHLING CONCRETE PLANT ON ACLINE ROAD IN SOUTH PUNTA GORDA. THIRTEEN MOLDS HAVE BEEN OBTAINED FOR ANOTHER THREE MONTHS - JAN., FEB. AND MARCH. (FROM THE REEF BALL FOUNDATION) POURING OF THE MOLDS WITH CONCRETE WILL BE MONDAYS, WEDNESDAYS, & FRIDAYS, BY INDIVIDUAL CREWS. ON TUESDAYS, THURSDAYS, AND SATURDAYS, THE STRIPPING IS ALSO DONE BY INDIVIDUAL CREWS. THE REEF BALLS(tm) WILL BE PLACED IN STORAGE AT THE KREHLING PLANT.
WHAT PAYS FOR THE COSTS OF THESE PROJECTS ? ?
THE CHARLOTTE HARBOR REEF ASSOCIATION IS A STATE OF FLORIDA NON- PROFIT CORPORATION AND, ALSO, IS AN I.R.S. 501 (C)3, TAX EXEMPT CHARITY. THIS ALLOWS THE C.H.R.A. TO APPLY FOR STATE AND FEDERAL FUNDS FROM FISHING AND BOATING LICENSE FEES. A TOTAL OF $22,000 WILL BE POSSIBLE FOR THE ONE-MILE REEF PROJECT OVER A TWO-YEAR PERIOD. BY USING VOLUNTEERS, AND THE GENEROSITY OF KREHLING INDUSTRIES, WE ARE ABLE TO SAVE $28,000 (64%) BY DOING IT LOCALLY. THE CITY OF PUNTA GORDA PROJECTS ARE FINANCED BY AN IN-KIND-GRANT OF 7 FREE-USAGE MOLDS FROM THE REEF BALL FOUNDATION. WE, ALSO, BELIEVE WE WILL RECEIVE A $2,000 CASH GRANT FROM THE NATIONAL ESTUARY PROGRAM.
THE REEF BALL (tm) PROVIDES SUPERIOR "STAY PUT" POSITIONING IN THE MOST SEVERE OF STORMS DUE TO THEIR SHAPE AND VORTEX OF THE SIDE AND UPPER HOLE OF THE UNIT. THEY MORE THAN PROVIDE THE LONGEVITY OF LIFE THAT A 21ST CENTURY REEF MUST HAVE. MOST IMPORTANT, THE REEF BALL (tm) HAS BECOME THE BEST HABITAT FOR HOLDING THE HIGHEST QUANTITY OF FISH IN RELATION TO OTHER REEF STRUCTURES. THE MANUFACTURING OF REEF BALLS (tm) IS BEING OVERSEEN BY ASSOCIATION DIRECTORS, FRED COUNTER AND JERRY JENSEN. THE NAMES OF ALL VOLUNTEERS WILL APPEAR IN THE NEXT NEWSLETTER.
PGI FISHING CLUB - KREHLING INDUSTRIES - JOE ROBERTS
THESE PROJECTS ARE ONLY POSSIBLE TO BE ACCOMPLISHED IN THIS MANNER BY THE SPLENDID COOPERATION OF 30 PLUS MEMBERS OF THE PUNTA GORDA ISLES FISHING CLUB. THESE MEMBERS ARE GIVING THEIR TIME AND LABOR . FOR THREE 2-1/2 HOUR PERIODS EACH MONTH. WE ARE IN DEEP GRATITUDE FOR YOUR GREAT PERSONAL CONTRIBUTION OF TIME AND TALENTS!!! EQUALLY MAKING THESE PROJECTS POSSIBLE ARE THE COMMITMENTS BY KREHLING INDUSTRIES, LED BY PUNTA GORDA PLANT MANAGER, JOE ROBERTS. THEIR WILLINGNESS TO PARTICIPATE WITH MANUFACTURING SPACE, STORAGE SPACE, INDUSTRIAL EQUIPMENT, AND GREAT COMMUNICATIONS ILLUSTRATE A SUPERIOR LEVEL OF LOCAL, CHARLOTTE COUNTY COOPERATION. WE ARE TN UP GRATITUDE TO KREHLING INDUSTRIES!!
ARTIFICIAL REEFS IN THE 21ST CENTURY
WE ARE SEEING MORE ATTENTION BEING GIVEN TO MATERIALS USED IN ARTIFICIAL REEFS HAVING STABILITY - LONGEVITY - AND SUPERIOR HABITAT THAN THE CONCRETE RUBBLE USED IN THE PAST. INDUSTRIAL LANDFILLS SHOULD BE THE FINAL RESTING PLACE, INSTEAD OF OUR PRISTINE WATERS, OF THIS TYPE OF CONCRETE RUBBLE. ALSO, THERE SHOULD BE CONTINUED AND GROWING DISCUSSION ABOUT A NEW PHASE OF ARTIFICIAL REEFS - HABITAT REEFS THAT WOULD NOT BE MARKED OR GPS LISTED. THIS WOULD ALLOW SPECIES, SUCH AS GROUPER, SNAPPER AND OTHER SPECIES, TO MULTIPLY AND GROW TO STABILIZE DECLINING NUMBERS. CALL THEM NATURE REEFS OR RESERVE REEFS. THEY APPEAR TO BE NEEDED!!
---
Newsletter #1 Summer 1997
For A Better Tomorrow
WHAT IS THE CHARLOTTE HARBOR REEF ASS'N. AND WHY DO WE NEED REEFS?
Charlotte Harbor and Charlotte County weren't always like we know it today. In the early part of the century, this area was basically a fishing industry town. Written accounts show that many days there were up to seven rail cars, each iced down with 5,000 pounds of fish, leaving this area for more populated markets.
In the early fifties, it continued to be not much more than an outstanding fishing community. Fish and hunting lodges, such as the Kelly's, (now the P.G. Elks Lodge) hosted the rich and the famous as well as lesser-known sportsmen, most of whom returned on an annual basis. We are now late in the century so what has changed??
Well, the population has increased from 5,000 to 125,000 in the county. What has changed with the waters that we know as Charlotte Harbor? Nothing has increased or has been added to the Harbor. As a matter of fact, since then (the early fifties) the Harbor has lost 25% of the mangroves. Since then, the Harbor has lost 50% of the salt marshes. Since then, the Harbor has lost 40% of its' seagrass acreage. Most recently, we have witnessed what netting of a food chain, such as mullet during their spawning season, can do to other dependent fish and birds.
Hi tech electronics, such as Loran and G.P.S., as well as, upgraded fish locators are a -treat help to the fishing persons who purchased 38,000 salt water licenses in 1996 in Charlotte County and when they use the 18,000 registered boats of Charlotte County.
Now, we really can't add mangroves, salt marshes, and seagrass back into the Harbor. We are not going to build a fish hatchery, BUT we can supplement what we have, with juvenile fisheries habitat-- man-made structures in designated fishing reefs. By the way, we define a juvenile fish as those between the size of a new hatch up to the adult size when they can start reproduction. In almost all species, these are under-the-legal size as allowed by fishing laws. Juvenile fisheries habitat will provide shelter to more of them, so they can escape being the food chain for other species and grow to be adults. As more than 70% of all recreational fish depend upon estuaries at some stage of their lives, the natural and artificial reefs available to them can retain Charlotte Harbors quality fishing.
Over 70% of Floridians now live in its' Coastal Counties (over 3,000 persons move to Florida's Coastal Counties each week). As the fishing pressure increases, there will be more Catch and Release species(such as Tarpon) to retain a balance of fish to fishing persons.
What brought you to this area of Florida?? Certainly the climate, but the Gulf waters played a major role in most of our relocating decisions. Let's join together (see membership) and improve one of our most valuable assets-Charlotte Harbor.
---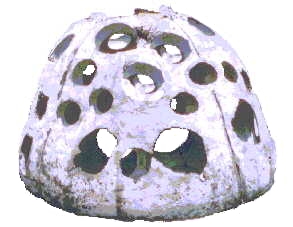 Here is a picture of one. They were developed by the Reef Ball Development Group near Atlanta, Georgia, in the '93-'94 years. They designed and perfected reef balls (a concrete igloo with many access and departure holes) into a range of six assorted sizes. The structure's sizes; unique hole sizing and placement; the special additives to the concrete for higher strength and lower Ph; as well as the rough surface of the Reef Balls (tm) has made them adaptable to all types of reef needs, as well as depths as shallow as Charlotte Harbor, to what ever depths of offshore Florida. The Reef Ball (tm) provides superior "stay put" positioning in the most severe of storms due to their shape and vortex of the side and upper hole of the unit. They more than provide the longevity of life that a 21st Century reef must have. Most important, the Reef Ball has become the best habitat for holding the highest quantity of fish in relation to other reef structures.
How successful is the Reef Ball (tm)? In only 4.5 years there are over 10,000 of these structures deployed in coastal waters of the U.S. as well as, twenty or so other countries. The Development Group does not manufacture, but has set up distributors with processing and casting forms, to work with reef groups such as ourselves.
In the Fall newsletter we will look at the size of the fishing industry in Florida and what it means to all of us. Also, more data and facts about the Reef Balled units as well as what our initial plans are for dock application --pier and harbor habitat, as well as offshore structures. Be a part of these decisions - - Join our group---For a better tomorrow!!!
---
WHAT IS AN ESTUARY??
Estuary. That's a word millions of Floridians and their guests hear on a daily basis. But what exactly is an estuary? Why are estuaries important to the Sunshine State? And what can Florida residents do to help protect estuaries?
In fact, let's answer that first question right away. What is an estuary? Well, basically an estuary is a body of water where freshwater from rivers and streams meets the saltwater of the sea. Most Floridians and millions of tourists see estuaries almost on a daily basis, but few of them realize it. That's because the estuary they see is probably called a bay, a sound, or even a lagoon. It's important to remember that no matter what it may be named, every body of water where saltwater and freshwater mix is technically an estuary.
WHERE DO THE DOLLARS COME FROM FOR REEF BUILDING??
For the past five years, the Florida Department of Environmental Protection(DEP) has made grants from a fund of Federal and State dollars. This has totalled about $900,000.00 each year with the breakdown as follows: Federal -$300,000 State - $600,000. A new law, this year,(see back page) allows non-profit organizations such as Charlotte Harbor Reef Ass'n. to qualify for these grants.
Are these tax dollars? (yes) and are they from your income and property taxes??(no) For example, it is public information that in 1996,in Charlotte County only, the 18,000 boat licenses totalled $439,000.00 and the Charlotte County salt water fishing license fees totalled $491,000.00. If you were involved with either of these, you, of course, were taxed. These are State-generated fees, but the money does trickle down, to a degree.
By being a non-profit organization, we will, also, be able to apply for reef grants from Corporate and Private foundations,that only give to groups such as us. In later issues we will discuss reef building costs.
---
Fishing Reef Amendment passes 1997 Florida Legislation! Florida Statute 370.25 was amended to allow non-profit organizations to apply for and receive available reef development funds. Quotes from the new law include "An artificial fishing reef program is created within the Department of Environmental Protection to enhance saltwater fishing opportunities and to promote proper management of fisheries resources associated with artificial reefs for the public interest. Under the program, the department shall provide grants and technical assistance to coastal governments and nonprofit organizations qualified under 501 (C) (3) of the U.S. Internal Revenue Code for siting and development of saltwater artificial fishing reefs as well as monitoring and evaluating their recreational, economic and biological effectiveness." This new amendment allows our organization, the Charlotte Harbor Reef Association, to become eligible for Federal and State funding while, also, being able to qualify for corporate and private foundation funding as well as private contributions. New guidelines mandate that reefs: 1. Do not break up or relocate when subjected to major storm forces. 2. Has a life expectancy in excess of 20 years. 3. By using the best science-based management practices to provide for quanitative Juvenile Fisheries Habitat.
---
Membership: is easy--Just print out this page, fill in and mail. You will receive a Certificate of Member
Sponsorship: is also easy-- --Just contact a director or officer listed in lower left. Sponsorships are $300.00 and include a plaque, miniature reef ball, and name engraved on actual reef ball before deploying.
---
O YES, I WANT TO BECOME A MEMBER OF THE CHARLOTTE HARBOR REEF ASSOCIATION
Here are my dues of $25.00 for a special membership thru 31 December 1998.
Name
Address
City
State
Phone #
Please send to :Membership Chairman -Jerry Tremblay -575-1770 1373, Jacana Ct.,Punta Gorda FL
---
Board of Directors
RALPH ALLEN
Kingfisher Fleet
ROBERT CROFT
Ret. Biologist
THOMAS H. FRASER - VICE PRESIDENT
Senior Scientist
W. Dexter Bender and Associates
CORT FROHUCH
Partner - Wilkins-Frohlich-Jones,
Hevia, Russell 8 Butter, PA.
JAMES B. IRWIN
Chairman IMPAC
JERRY JENSEN - PRESIDENT
Ret. Deere & Company
JERRY LEE - SECRETARY
Ret. College President
DOYLE THOMPSON - TREASURER
Ret. VP Engineering
The Weather Channel, Inc.
---
This page has been accessed times since 5/14/97

Copyright ©1997, RBDG, Ltd. all rights reserved. See brochure page footer for information on patents, copyrights, trademarks and service marks referenced, but not indicated, on this page.
---
---