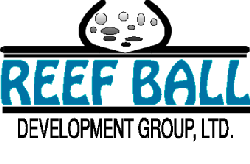 Reef Ball Models!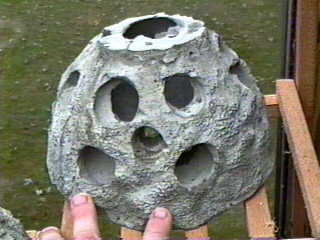 [Reef Ball Models are 7 inches wide, 5 inches tall, and they weigh 5-6 lbs.]
We started out making models for R&D and as sales demonstration models. To our surprise, we took many orders for other uses. After two years of refinement, we have figured out a way to make them in large quantities even though every one is made by hand. It turns out that models make great saltwater aquarium pieces. And since they have such a large amount of surface area, they can actually improve a tank's chemistry by providing a place for nitrifying bacteria which are needed to "cycle" a tank. Whatever your needs may be, remember that Reef Balls are infinitely interesting to look at and talk about. The following may give you some very creative ways to "deploy" your model Reef Ball:
Research objects for Science Fair/Projects and School Reports
Structure for SALTWATER aquariums
Store display
Mangrove "planters" for seedlings (holds them in place until rooted)
Business card holder
Pen holder
Candle holder (great for those romantic nights)
Table centerpiece
Conversation piece
Paper weight
Toothbrush holder
Desk decoration
Remote control holder
"Pet" reef
Icebreaker for parties
Doorstop
Landscape border
Orchid pot
A gift for an ecologically minded person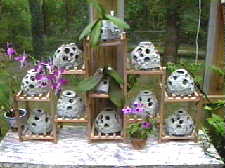 [Here's an interesting use, orchid pots!]
Our models are made from the same pH neutralized concrete mix as the real Reef Balls. That's why they are so strong and won't harm your saltwater aquarium life.
DO NOT USE THESE MODELS IN FRESHWATER AQUARIUMS AS THE PH IS BALANCED FOR SALTWATER!
(You should still pre-soak the units in a bucket of water for at least a week before placing in your tank to remove the dust from shipping and any residual calcium hydroxide).
If you want to order you own model, just send us a check for $20 and a US address for us to UPS it to you. If you are outside the US, you'll have to pay shipping which varies from country to country so call or e-mail us first. (Please see our address below.)