Costa Rica Reef Ball Project(s)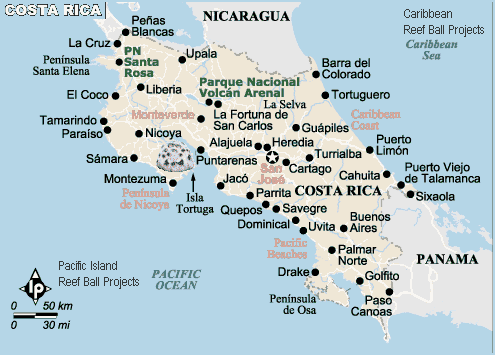 Costa Rica Paquera High School Educational Update
April 25th, 2004, Costa Rica Insert Picture
Nacion.com - Nacionales April 24, 2004, Costa Rica, "Para que no falten arrecifes" (En Espanol/ In Spanish)
Summer 2003, Paquera high school has written a proposal to CRUSA Foundation (to allow students from Paquera) to start building a reef ball reef as part of an educational program for 10th grade students.
April 17-25th 2004 is the official date for construction and deployment training. Click the Reef Ball in the map above for a more exact map of the project location. The project is being aided by the Asociación de Buzos de Paquera (Paquera Divers Association), are a group of former local fishers, and are donating a 3 tons capacity raft for deployment. The Reef Balls will be moved from Paquera town (where High School facilities are located) to the Ferry dock then deployed in the Ocean.
Griselda Cerdas-Ruiz <trinidad03cr@yahoo.com> (Spanish only) is the teacher doing the proposal. Angel Herrera fherrera@racsa.co.cr is also assisting in the project and speaks English.
The program has been accepted in the the Reef Ball Foundation's Reefs Around the World Grant Program.
December 3rd 2003 update CRUSA Foundation Accepts the proposal!

Griselda is

organizing a meeting with all people involved in the project,

to explain the good news and to coordinate the people for Reef Ball's arrival the next year.
Other Information:
Reef Ball Staff proposed for CRUsa Project include:
CV For Todd R. Barber, CEO Reef Ball (2002)
plus an assistant staff member Sara Cirella (sara@reefball.com)
Typical Concrete Specifications for this project HERE
---
<Back to World Map (use browser back for one level back)
---
Copyright 1995 - 2003, RBDG, Ltd. all rights reserved. See brochure page footer for information on patents, copyrights, trademarks and service marks referenced, but not indicated, on this page. Other pages we maintain: Reef Ball Shared Resources, Reef Ball Foundation, La falda