Martin County Reef Ball Projects
Click the interactive map or scroll down for more links.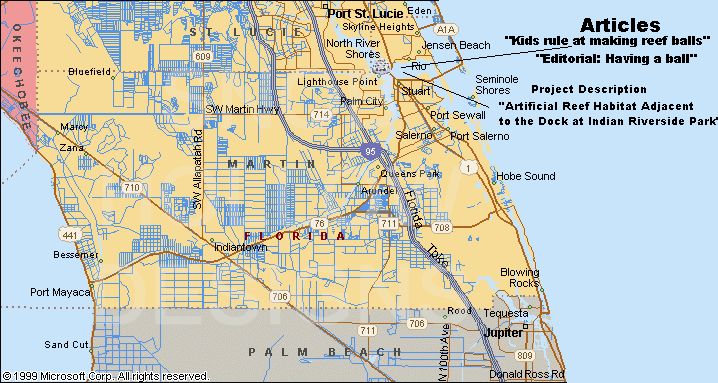 Artificial Reef Coordinators

County (And Indian River Project Coordinator)
KATHY FITZPATRICK
2401 S.E. MONTEREY ROAD
STUART FL 34996
kfitzpat@martin.fl.us

Martin County Reef Research Team
Bill Scammell
3423 SE Jefferson Street
Stuart Florida 34997
scubil@bellsouth.net
---
Authorized Contractors
Reef Innovations, Inc. (RI) is a worldwide mobile, authorized, licensed and insured Reef Ball Contractor providing turnkey construction and delivery of Reef Ball products worldwide. RI also offers Reef Ball mold training and finished module inspection services. Check our Website for more information.
Reef Innovations
2415 McMichael Road
St. Cloud, Fl 34771
larry@reefball.com
Cell: (941)650-2519
Home: (407) 957-5821

Sea Systems
Sea Systems is an authorized contractor for the Turks and Caicos Islands. A division of PARDEE, Ltd., Sea Systems is a Turks and Caicos registered company with expertise in delivering coastal engineering and environmental enhancement projects in the marine science field. Their principals represent more than 50 years of experience working in the marine science field with institutional, governmental, non-governmental, and private sector interests.
In TCI:
Sea Systems
PO Box 43
Providenciales, TCI
649-946-5578
In USA:
Sea Systems
1674 Thumb Point Drive
Fort Pierce, FL 34949 USA
561-460-6965
<Back to World Map (use browser back for one level back)
---
Copyright 1995 - 2006, Reef Ball Foundation, Inc. all rights reserved. See brochure page footer for information on patents, copyrights, trademarks and service marks referenced, but not indicated, on this page. Other pages we maintain: Reef Ball Shared Resources, Reef Ball Foundation, La falda