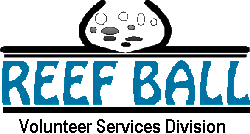 ---
We have a variety of volunteer programs, both formal and informal in nature, to allow folks to help us achieve our goals of helping to restore our worlds aquatic ecosystems.
There are several basic areas where volunteers can help:
> Aid in building Reef Balls
-Typically working with setting up molds and pouring concrete
o Suitable for most anyone with normal physical aptitude that does not mind getting concrete up to your elbow.
x Conditions vary according to the exact nature of the project, there is usually no cost to volunteer unless the assistance includes formal construction training from an authorized contractor.
=Typical Project
> Aid in Deploying Reef Balls
-Typically working as a diver from a boat or from shore
o Usually requires an advanced diving certification, volunteers near deployment areas willing to provide boats are often needed. Normally requires some experience doing underwater tasks.
x Conditions vary according to the exact nature of the project, there is usually no cost to volunteer unless the assistance includes formal deployment training from an authorized contractor. Volunteers must typically supply their own diving gear, although weights and tanks are often proved by the project.
=Typical Project
> Aid in Coral Transplanting, Propagation, Coral Rescue or Reef Restoration Work
-Working near shore and underwater with advanced techniques for reef restoration and creation work.
o Usually requires certified divers, priority is given to formal members of the Reef Ball Coral Propagation and Rescue teams that one qualifies to join after successfully completing your first coral project. We are typically looking for individuals that have special skills, education, professional or private interests in coral reefs. Typical volunteers include marine biology or ocean engineering students, marine consultants, people with backgrounds in either NGOs or governmental coastal management, coral reef researchers or other scientists, people with advanced diving skills, underwater photographers or videographers, members of the environmentally related press, environmentalists, marine reserve managers, etc.
x These projects are typically based in countries other than the U.S. and can involve significant travel costs. On average, it may cost a volunteer between $700-$1500 dollars per week to participate in such a project. (Typically volunteers pay for their own airfare and between $700-$1000 per week for room, food, and drinks). Volunteers must typically carry about 15-20 pounds of coral transplant supplies with them which are provided without cost by the Reef Ball Foundation, Inc. Supplies include coral propagation putty, and a special 3 minute setting concrete used to make coral plugs. Volunteers usually supply their own personal needs such as dive gear, latex gloves, sun block, hat with brim, insect repellent, etc. The Reef Ball Foundation normally sets up access to the internet for volunteers when out of the country. Groups typically range in size from 6-12 volunteers per trip. One or two coral propagation experts accompany the volunteers for training and supervision and are normally accompanied by a local contractor (who typically built the Reef Balls) and a hotel sponsor (who typically purchased the Reef Balls). It is recommended that volunteers bring underwater digital cameras (Most team members carry a Cannon Powershot 400 with the Cannon Underwater Housing WP-DC800). The Reef Ball Foundation also provides volunteers two project t-shirts (one for working, one to take home clean). We do our best to design these trips around individuals that will have a great time together (i.e. some trips are geared for couples, whereas others are geared more for singles, etc. We typically like a balance of male and female volunteers for these projects due to the wide variety of tasks and skills the group must possess as a whole to be successful. Each volunteer is expected to plant about 150 corals in a one week period. To be invited to participate, we must have on file a copy of your passport and diving certification card. A short description or C.V. of your diving, educational background, or other project related skills is very helpful to us in making up the right group of individuals for each trip.
= Typical Project, Another Typical Project, Typical Training
> Aid in planting and caring for Red Mangroves
-Typically working with pots and soils in waste deep or less salt water
o Suitable for folks that have green thumbs and don't mind getting their feet muddy.
x Conditions vary according to the exact nature of the project, there is usually no cost to volunteer
= Typical Project
> Educational or School Based Volunteering Reef Ball Projects
-Typically hosted by elementary, high school, university, or NGOs
o We can help you set up a program in your school to meet whatever level of students need
x Conditions vary according to the exact nature of the project, we have matching grants available to fund these project.
= Typical Project
Want Information About Volunteering & Current Projects?
Just enter your email address and hit submit
Need more information? Contact us:



John Walch
Coral Team Co-Leader
john@reefball.com


Marjo Van Der Bulck
Coral Team Co-Leader
marjo@reefball.com


Sara Cirelli
Red Mangrove Team Co-Leader
sara@reefball.com

Reef Ball Foundation, Inc.,
Volunteer Services Division


Georgia Office (Kathy Kirbo)
603 River Overlook Rd.
Woodstock, GA 30188 USA
Atlanta, GA 30188
770 752-0202

Florida Office (Todd Barber)
6916 22nd Street West
Bradenton, FL 34207
941 720-7549

Arizona Office (John Walch/Ocean Worlds)
15042 North Moon Valley Drive
Phoenix, AZ 85022
602-548-8697




Todd Barber, Division Chair
reefball@reefball.com


Kathy Kirbo,
Executive Director
kathy@reefball.com
---
Copyright ©1993 - 2004, Reef Ball Foundation, Inc. all rights reserved. See brochure page footer for information on patents, copyrights, trademarks and service marks referenced, but not indicated, on this page.
Other Valuable Internal Reef Ball Links
-Coral Reef Transplant Notes
-Identified Hard Coral Diseases (The Coral Disease Page) offline