Reef Ball is composed of many different companies and organizations all dedicated to helping folks get Reef Balls into the aquatic realm in areas where they will be good for the environment. Basically, we'll organize ourselves to help, you the client, do the project in the way that makes the most sense for you. Here are some approaches to getting Reef Balls built no matter what your budget or project goals.
Reef Ball Internet Brochure
& Pricing Info
If you want to do all or most everything yourself from pouring your own concrete to deploying, go here to learn about mold purchasing or leasing options.
Reefs Around The World / Nation
Grant Program Requirements & Application
If you want to do all or most everything yourself from pouring your own concrete to deploying, BUT YOU DON'T HAVE ENOUGH FUNDS, Learn what you need to do to apply for a grant from The Reef Ball Foundation for your organization to get FREE Reef Ball mold systems.
Contractors, Distributors & Trainers
If you want someone to do more for you or even do it all, then contact an authorized contractor in your area.
If you just want to volunteer some time, check out the programs of the Reef Ball Coalition
If you just want to donate some funds to help us build more reefs, go here and donate on-line now.
Support The Marine Reserve Concept!
The world needs more marine reserves, show your support here and learn why we need reserves!
Corporate Sponsorship Packages
Is your company interested in sponsoring the construction of a reef? We can do it all, or just a bit for you. Learn how to help the environment while getting excellent press exposure. Work through the Reef Ball Foundation for non-profit activities or directly with a contractor for that special marketing event.
Do you want to make a memorial reef dedicated to a loved one or someone special?
What's In Development?
We've got our R&D teams working on the future of artificial reefs. Find out about what they are doing! The EPA Endorses Reef Balls for under dock programs, find out here.
Educational Programs For Groups

Does your school, camp, or other marine educational center have a Reef Ball program? We regularly set up programs for your young people to help the environment while learning about the sea. The Reef Ball Coalition staff can plan it all for you. If you just want to learn about doing some things on your own without a formal program, go to the educational resources page.
Miniature Reef Balls
We sell six inch concrete Reef Ball models for just $20 delivered to your US address. These exacting replicas help demonstrate Reef Balls, are great for science projects & fresh or saltwater fish tanks.
Serial Numbering, Plaques, & Logo Inserts
Do you need to add lasting serial numbers to your artificial reef structures? How about making that memorial plaque or just a name plate for your reefs.
Reef Research Dive Teams
A list of reef research teams and information about them. (Mostly in Florida). Know of other teams? Contact us we can get their information posted.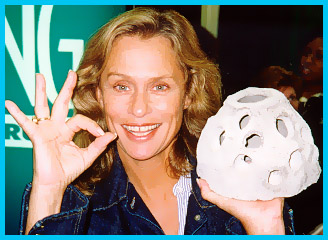 Fellow scuba diver Lauren Hutton expresses her approval of Reef Balls
at the 1999 DEMA Show in New Orleans!
(Used with permission)