Strange Reef Balls
Folks just love to play with their Reef Ball mold systems. Here are a few examples of some of the strange ones! If you have a Reef Ball photo with a strange looking Reef Ball, send it in and we'll put it up here.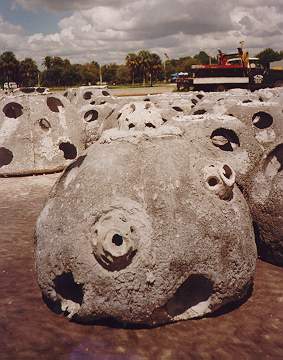 Reef Innovations "JUVI BALL"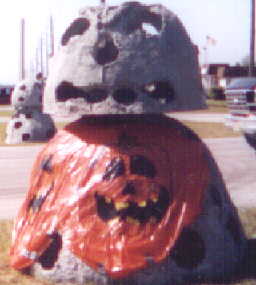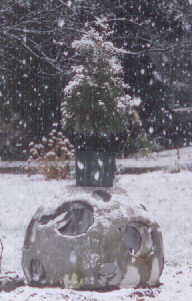 (Left) Jerry Smith , Larry Beggs of Reef Innovations and Diving Specialists and Michelle Richardson crafted this Halloween Reef Ball by placing the inflatable balls which make the holes in a smiley face pattern.

(Right) Christmas time (back in 1994) brought snow to a Bay Ball at Reef Ball's (former) headquarters in Atlanta, Georgia.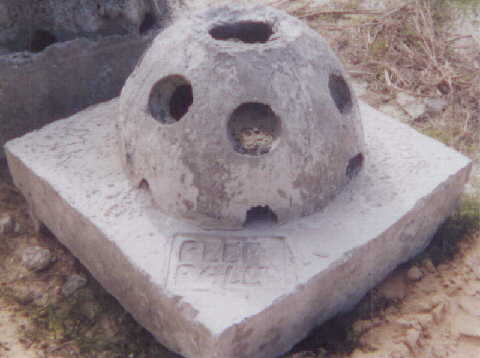 This Bay Ball was cast into a solid block as part of a project where leftover concrete is used and it is desirable to use as much concrete as possible. Reef Builders, Inc. is working on a similar "footing" that will be rounded with holes added to make the units more attractive for both man and fish.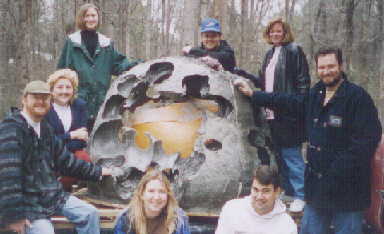 Reef Ball volunteers (from left to right: Don Brawley, Jane Brawley, Rosemary Royston, Laura Shellhorse, Jay Jorgensen, Joe Kelly, Patty Jorgensen and Phil Morgan) cast this Reef Ball without pinning the side balls to make a large "Grouper Hole" in the side. The Reef Ball was cast on a boat trailer to make launching it from a boat ramp possible.