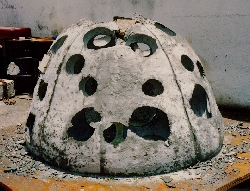 A Reef Ball is a Designed Artificial Reef used to restore ailing coral reefs and to create new fishing and scuba diving sites. Reef Balls are used for beach protection, freshwater, mitigation, and many other uses too. Reef Balls are the only artificial reef that can be floated and towed behind any size boat! Reef Balls are made of a special, marine friendly, concrete and are designed to mimic natural reef systems, they are used around the world to create habitats for fish and other marine and freshwater species. Over 500,000 Reef Balls have been deployed in over 3,400 projects worldwide. Reef Balls are made in many sizes to best match the natural reef type which is being mimicked. The most common sizes are named:
Super Reef Ball=6 x 4.5, 5000 pounds
Reef or Ultra Ball = 5-6 X 3.8-4, 4000 pounds
Pallet Ball=4X3, 1750 pounds
Bay Ball=3X2, 400 pounds
Mini-Bay Ball=2 x 21", 300 pounds
Lo Pro Ball = 2 x 1, 75 pounds
Oyster Ball= 18"X1, 35 pounds
"Model" Ball = 7"x5", 6 pounds
Reef Balls are by far the most used designed artificial reefs in the world due to numerous special features which make them ideally suited to create aquatic habitats...
Reef Balls can be made with mold systems from the Reef Ball Foundation Inc. Services Division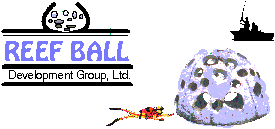 The Reef Ball Development Group is a volunteer group who's mission statement charters the group to help restore our world's ocean ecosystems through the development and use of aesthetically pleasing, ecologically sound, and economically designed artificial reefs. We emphasize on-going research, public education, community involvement, and reefs that promote and support natural species diversity and population density. The Group has constructed and deployed more than 500,000 Reef Balls in over 3,400 projects worldwide.
Or one can buy Reef Balls from authorized contractors such as:

Reef Innovations, Inc. and others...see our contractors page for complete listings.
Or Reef Balls are also often made in conjunction with the...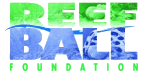 Which is a 501(c) 3 non-profit charity who funds and promotes Reef Ball projects for environmental restoration and protection projects worldwide.
You can even have your cremated remains placed in a Reef Ball or you can remember a loved one with a Memorial Reef built using Reef Balls through...