Reef Balls As Submerged Breakwaters
Reef Balls have very unique properties when used as a submerged breakwater. Most breakwater technologies are designed around the fact that the more "perfect" of a wave break one gets...the less energy makes it to the beach.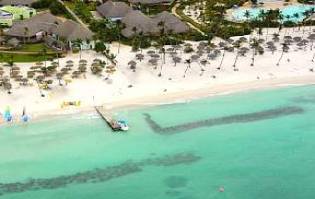 What's really happening is when a wave is converted from wave form into fluid flows (current) a good "break" sends currents in all directions rather than just toward the beach (where the sand can be eroded by currents).
In order for Reef Balls to make a good "wave break" they must be close to the surface, in a rows parallel to the expected waves and wide enough to break the expected wave size (wider breaks bigger waves).
So, just by good design, you can get a great wave breaking submerged breakwater and all the biological benefits of a Reef Ball. However, when we did our first Reef Ball breakwater, we found that our results were far greater than expected by the wave breaking computer models.
Further study revealed that all the "vortex" holes (which create whirlpools) in the Reef Balls work in an additional way which did not occur with other breakwaters (such as geotextiles). These vortex hole caused whirlpools create drag on the current flows created when a wave converts from wave form to current flows (breaking)...on other words Reef Balls ATTENUATE current flows as well as act as a traditional submerged breakwater.
Reef Balls have also been scientifically observed changing wave types...as waves pass over Reef Ball, the specific type of wave changes to other forms.
Reef Balls aren't suited for all locations when it comes to submerged breakwaters. Reef Balls can become expensive to make any taller than 5 feet, so ideally they should placed in 6 feet (2 meters) or less water to be cost effective. Therefore, the slope of your beach is ideal if it is gentle enough so that 5-6 feet (or less) of depth is available at least 50 feet offshore (preferably 100-300 feet / 30-90 meters) so that you have plenty of room for the beach to build itself up and still have room for swimming inside your breakwater. Your site is also more perfectly suited for Reef Balls if there is some hard bottom in the area where you hope to put Reef Balls. That's because, Reef Balls are most easily (and inexpensively) anchored to a hard bottom (It's okay to have some sand on top of the hard bottom). And to take advantage of everything Reef Balls offer, Reef Balls are best where you will enjoy the biological benefits of Reef Balls too...(i.e. where you want snorkeling or fishing or scuba diving). In hard corral waters, we can even propagate or save local damaged corals and transplant them onto your Reef Balls. Over the long run, you'll eventually have a natural living fringing reef, not a man made solution, to protect and build your natural beach. Reef Balls are therefore the only environmentally positive solution.
---









All of the following reports give excellent, non-censored views into using Reef Balls as submerged breakwaters. The Army Corp Technical Paper is the best single source for understanding the basic concepts. Other reports are either site specific or proposals for new sites...some with very unique problems like Proposal for Reef Ball Submerged Breakwater which shows some of the design variations possible with Reef Ball submerged breakwater technology.
Design of a Reef Ball breakwater requires specialist expertise that must be used in all our projects to ensure correct application.
If you would like more information we can arrange a visit by our global consultant specializing in breakwater technology.
---